Built in the early 90s and taking its cues from the best of Mediterranean living, 'Adagio' is a distinguished Tuscan-inspired villa by famed Robert A.M. Stern Architects backed by Buffalo Bayou.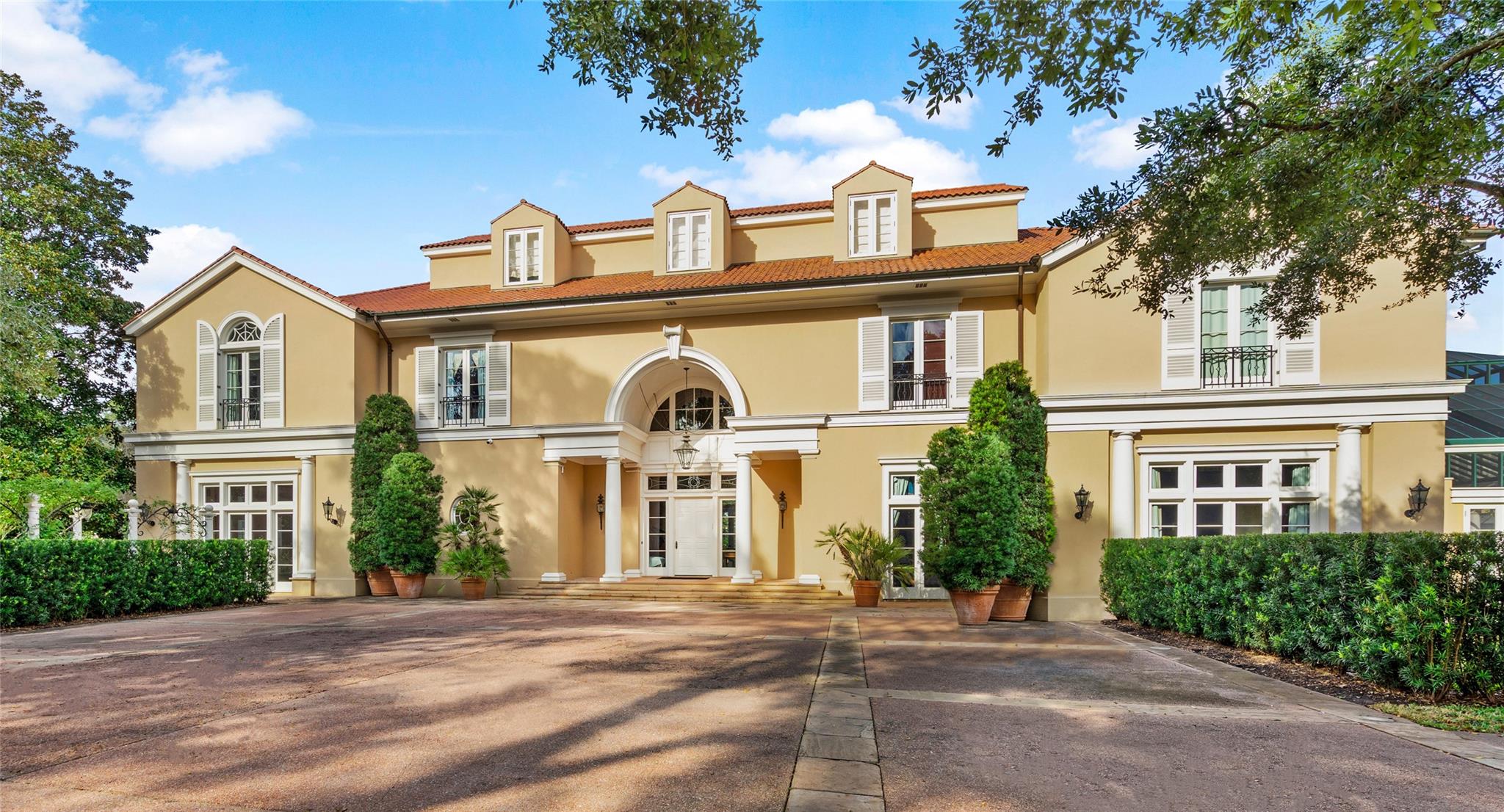 This sprawling home includes 4-5 bedrooms, lavish interiors, grand entertaining spaces, a 2-story garden atrium with lap pool and regulation size tennis court with an opulent queens pavilion. Guests enjoy an adjoined residence with an additional separate caretakers apartment on the grounds.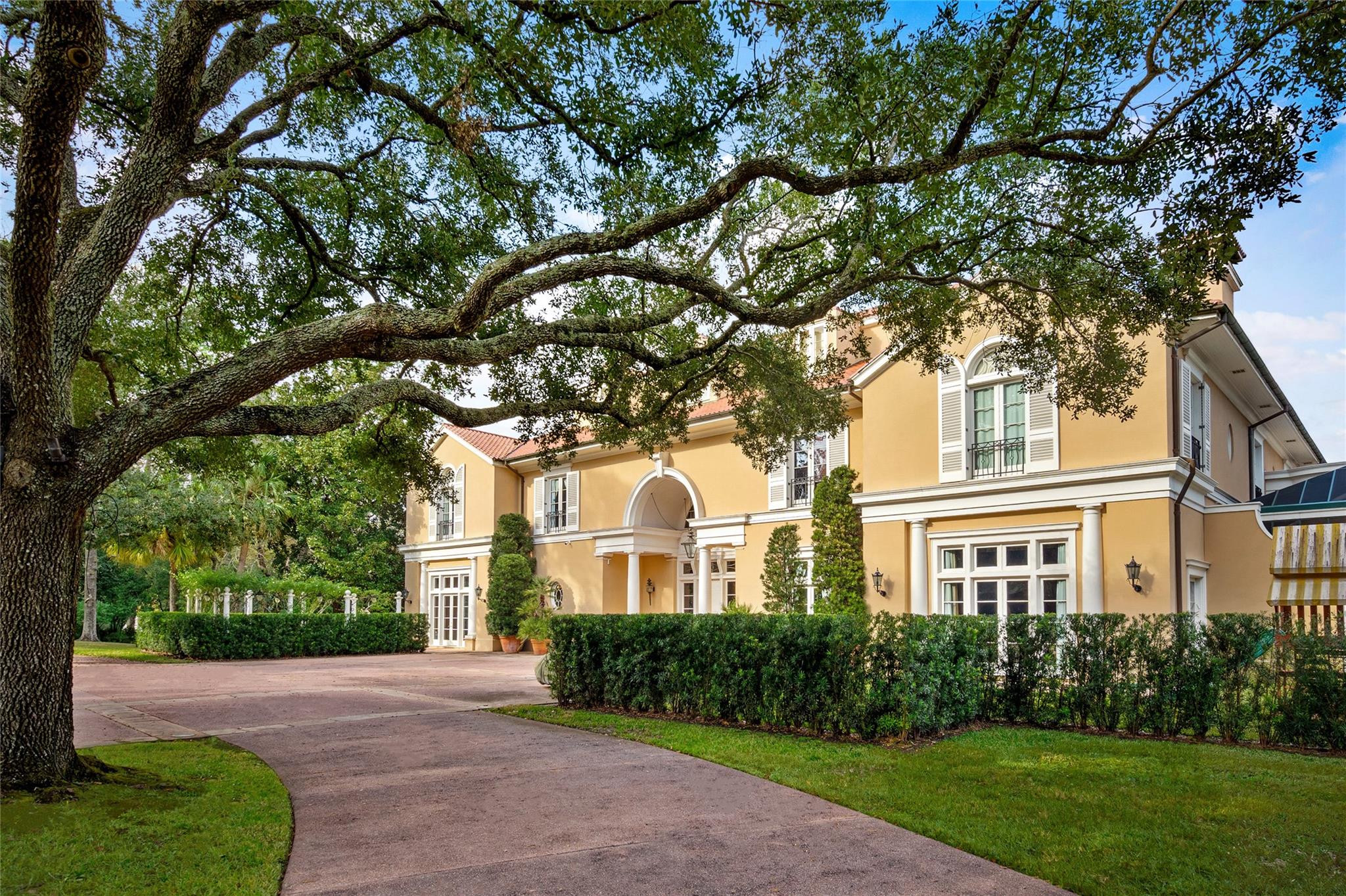 Entry into the exquisite gardens beyond the grand columned foyer entry.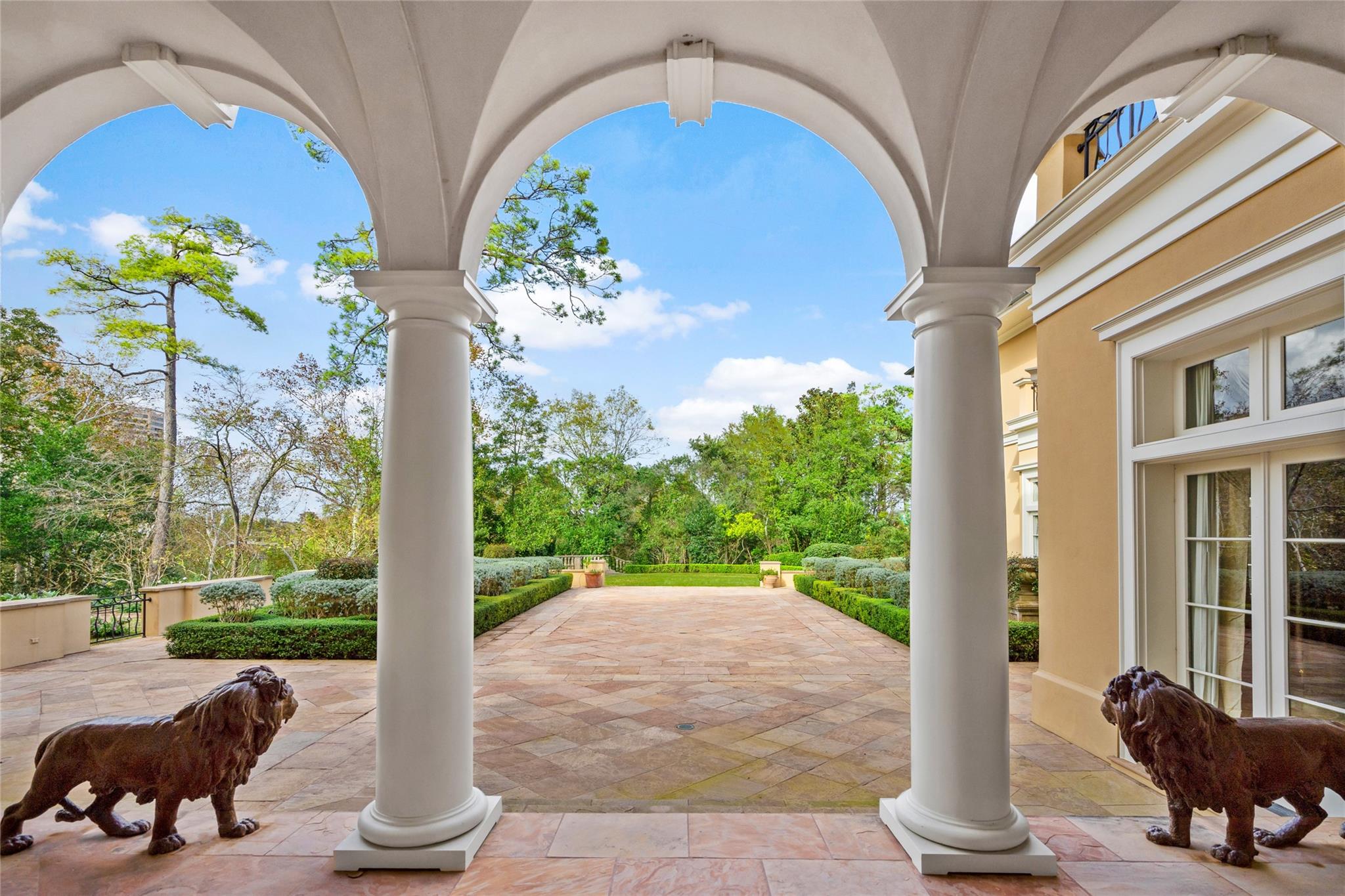 Expansive outdoor terraces for relaxing or entertaining.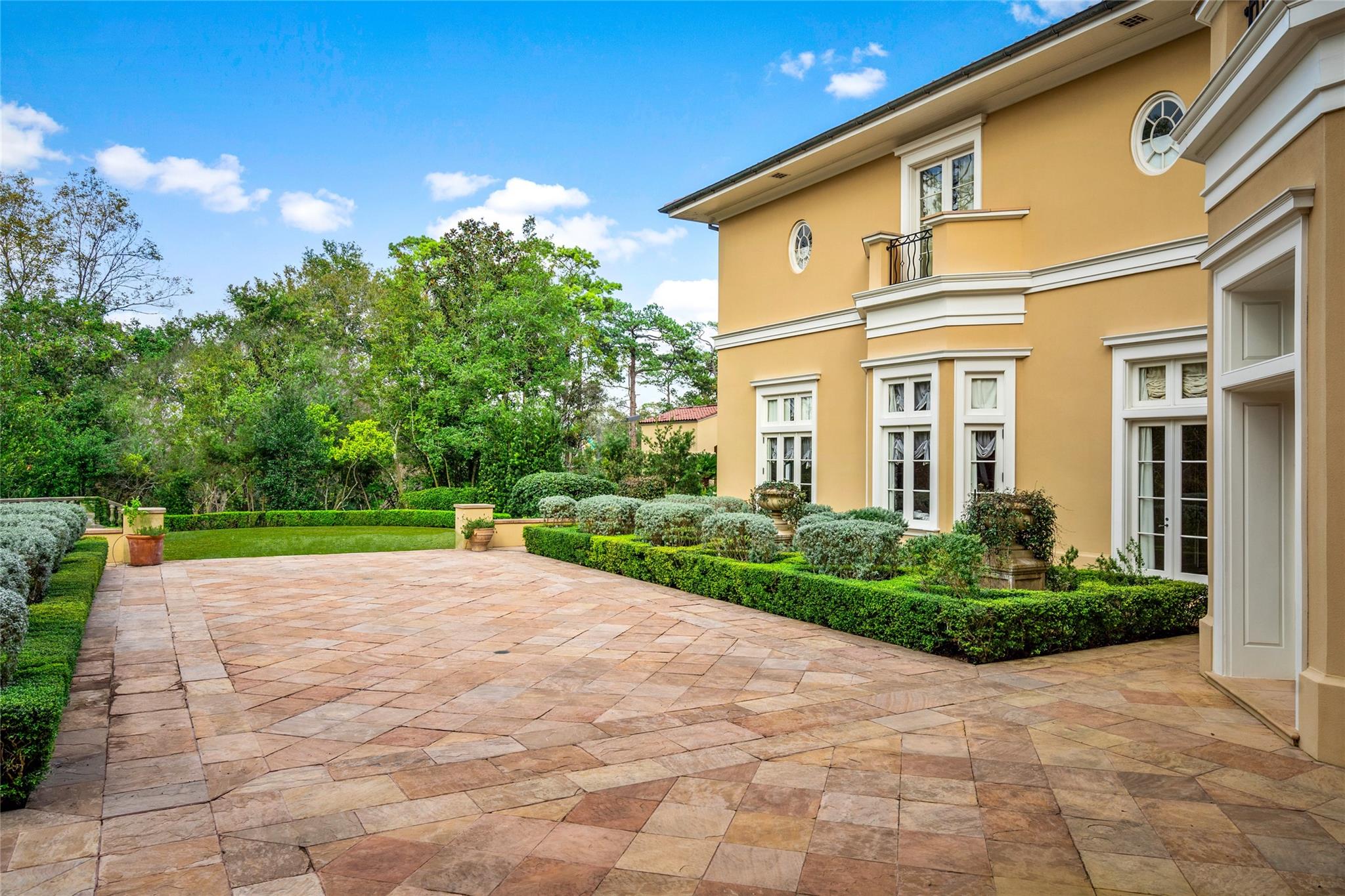 Lush parterre gardens surround the residence ensuring beautiful views from each room in the residence.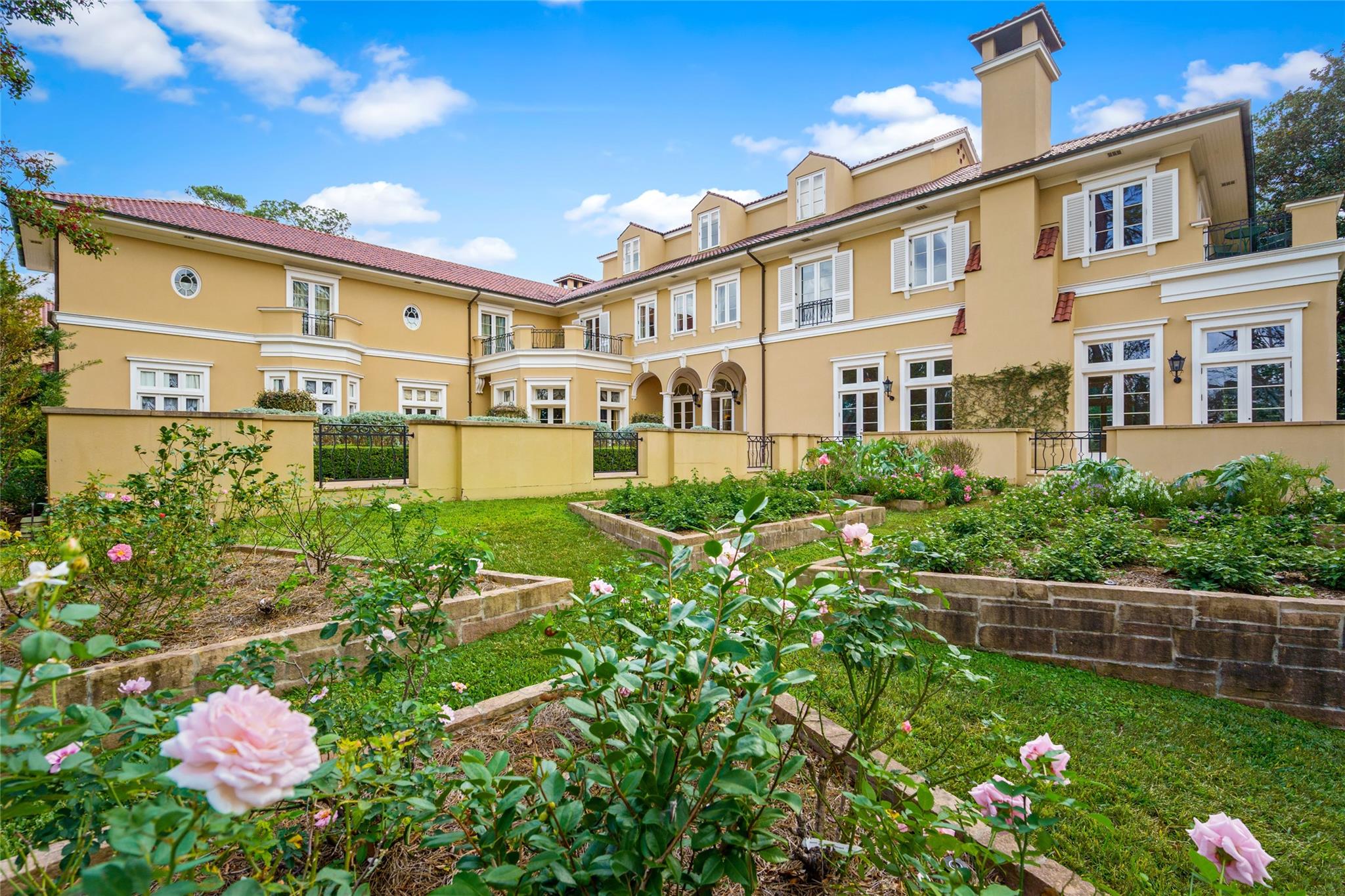 A peek into the custom atrium designed for the ultimate indoor/outdoor living experience.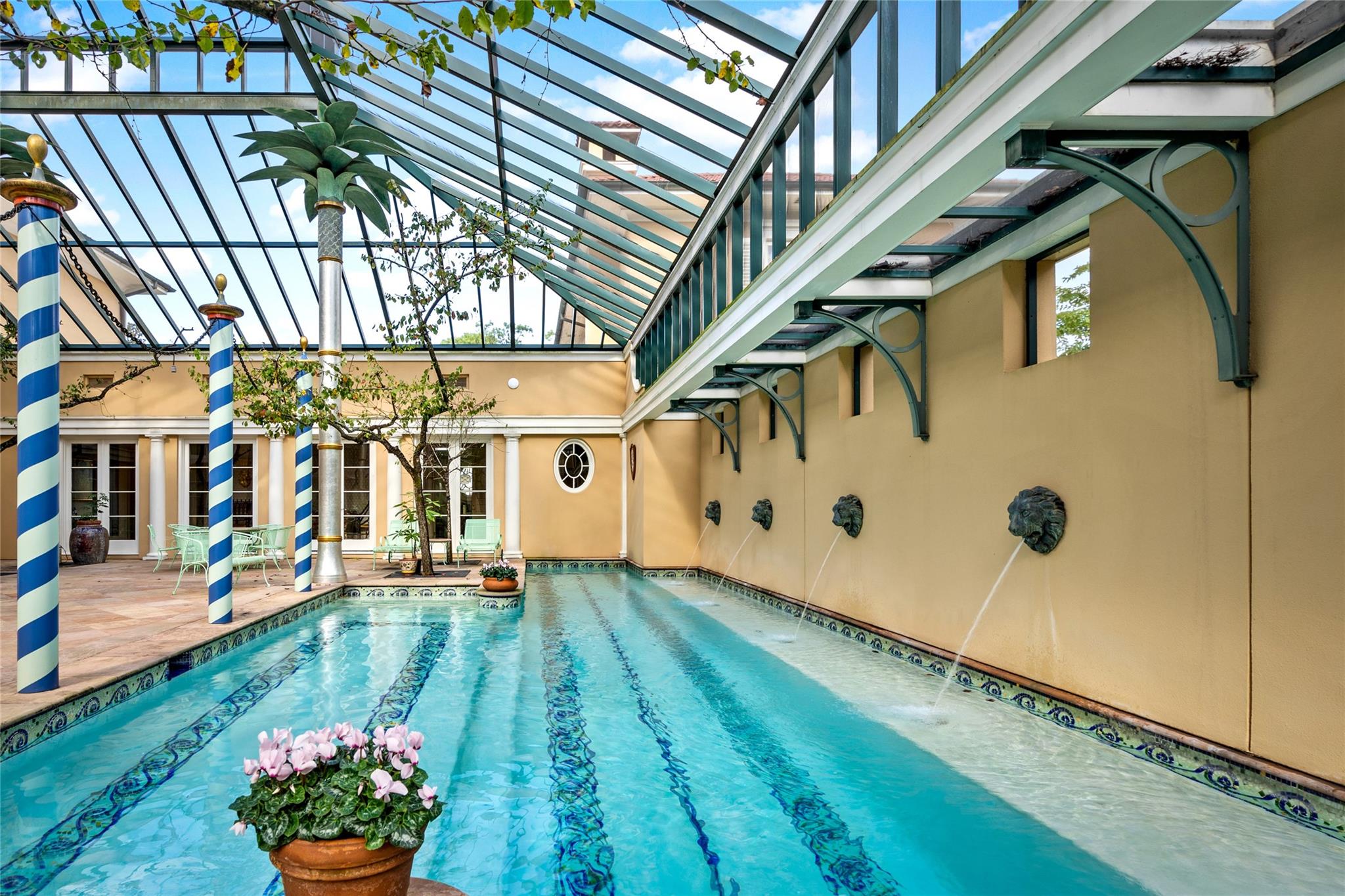 A one of a kind two-story, 3,000-square-foot atrium featuring an enclosed pool, lovely seasonally blooming flora and fauna and fountains is perfect for the Texas summer and can be used all year.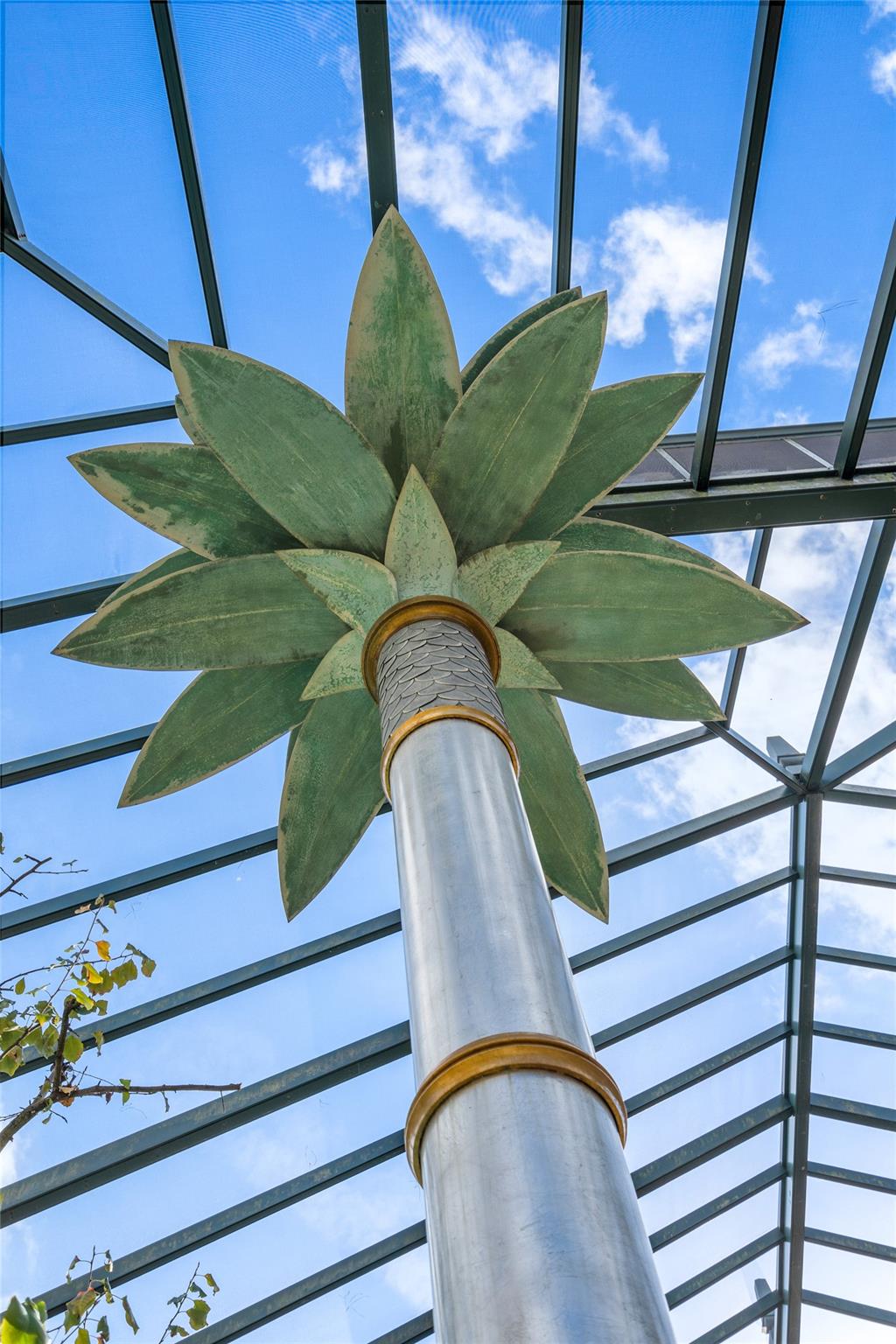 A stunning covered freshwater heated lap pool with fountains and glazed mozaic tiles accentuated by whimsical replicas of striped Venetian gondola mooring poles.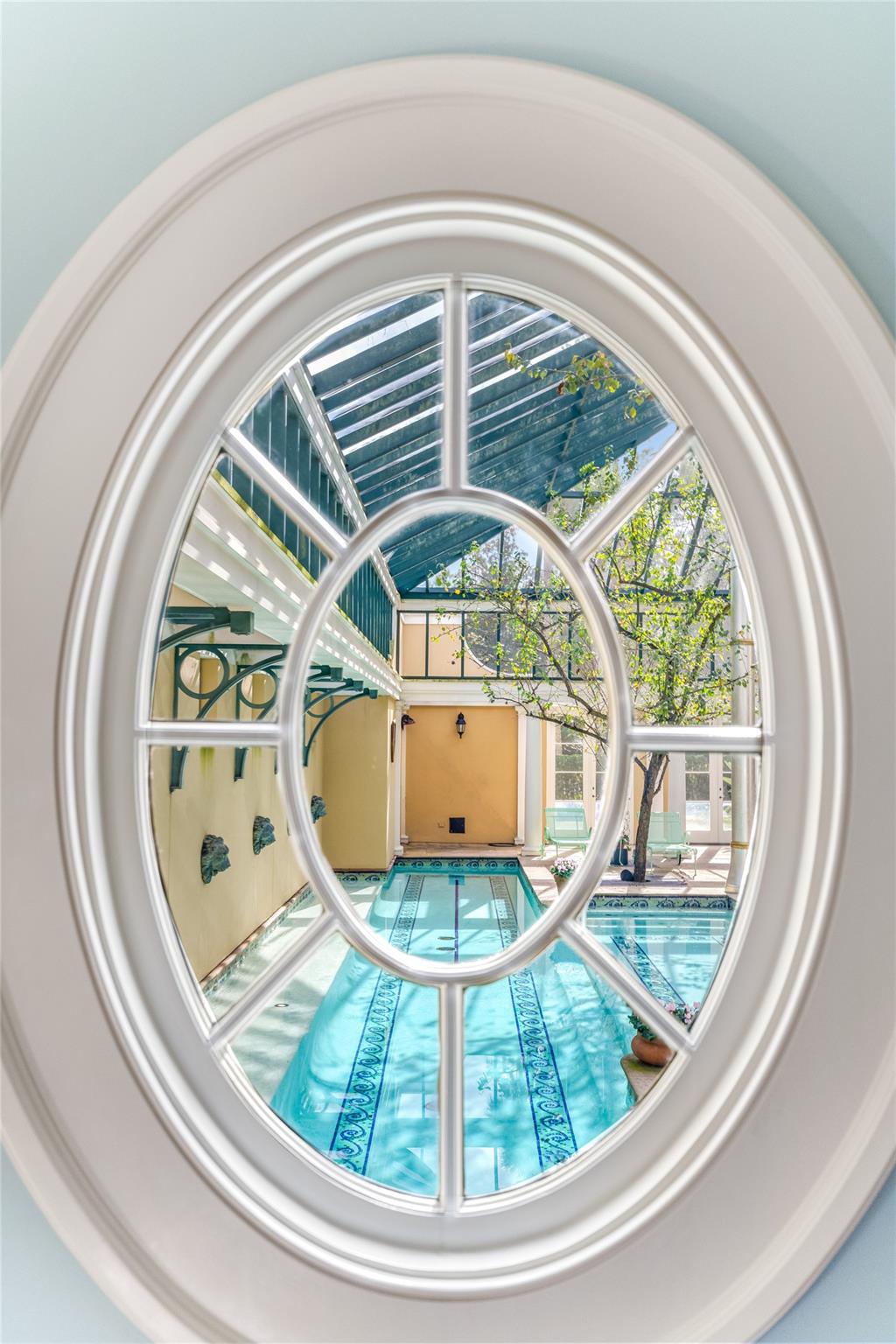 It's all in the details! Two-story palm tree columns add custom ambiance to the outdoor pool atrium.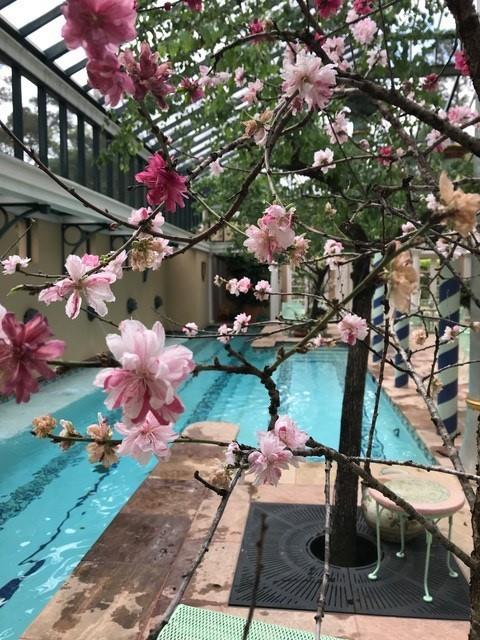 Enjoy lovely seasonally blooming flora and fauna with fountains perfect for the Texas summer!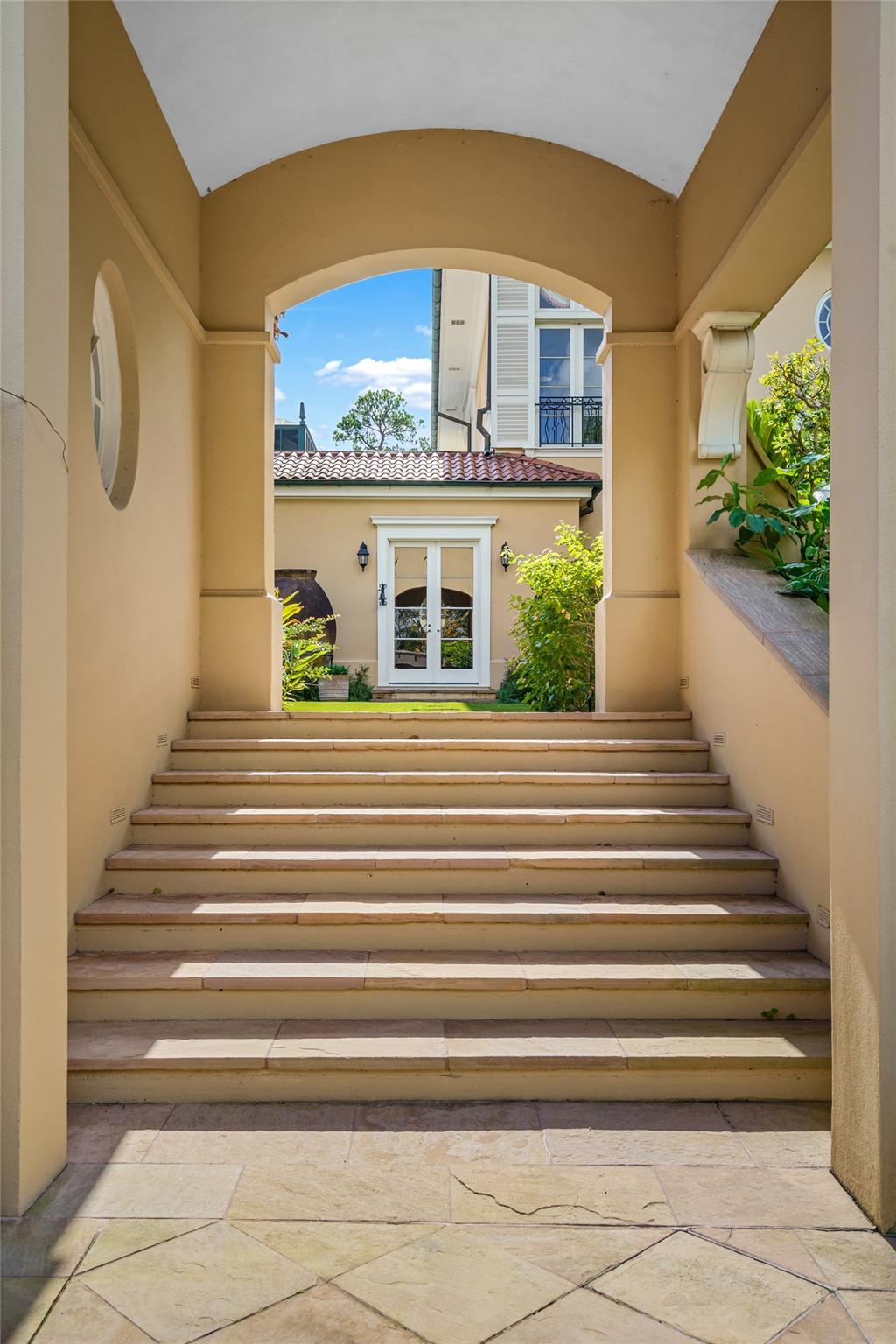 A spacious regulation sized Tennis Court with custom queens pavilion viewing balcony and covered breezeway for onlookers.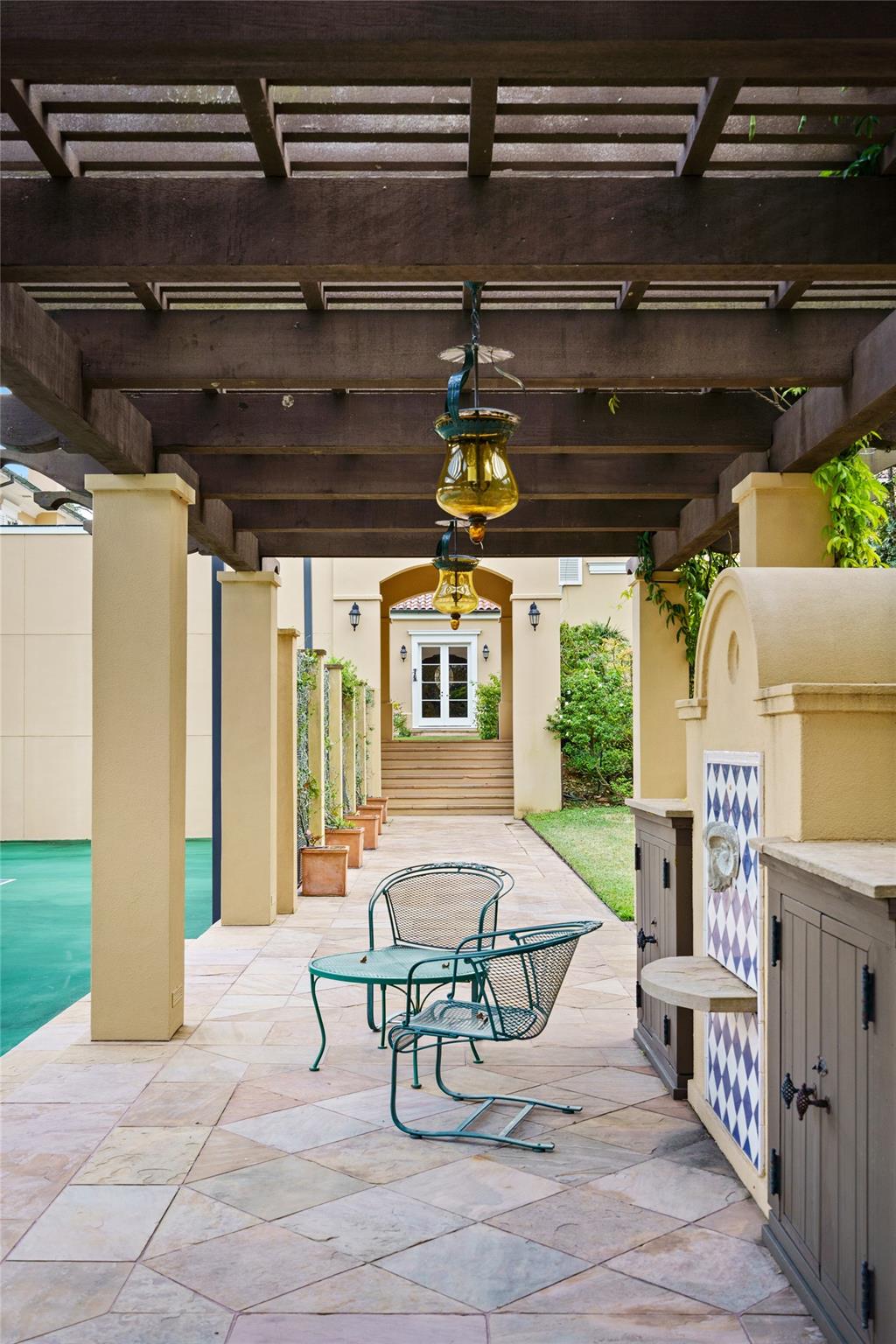 Stunning covered breezeway leading to the regulation size tennis court, gardens and Buffalo Bayou.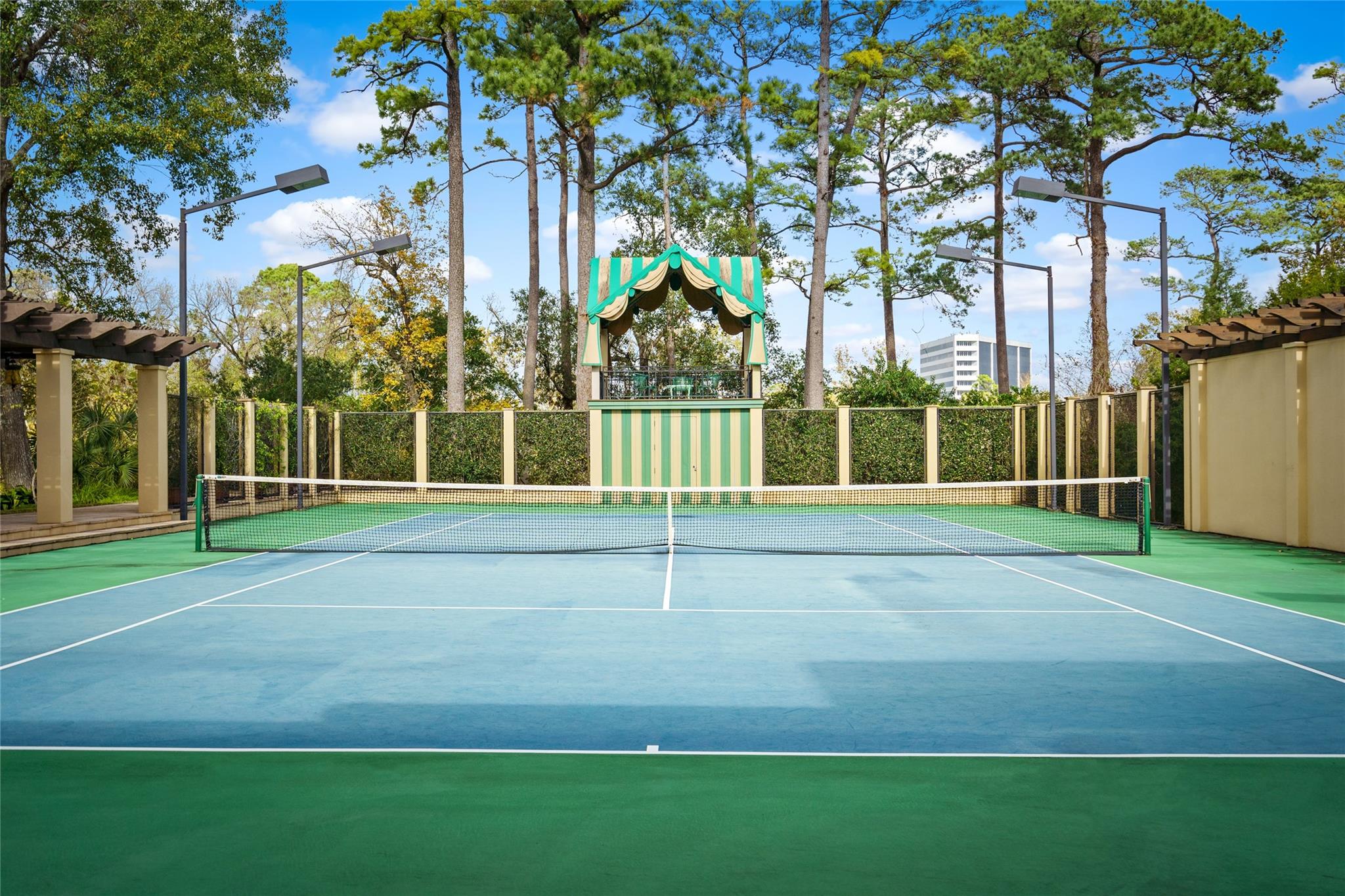 Take in a match under the covered breezeway adjacent to the regulation sized tennis court.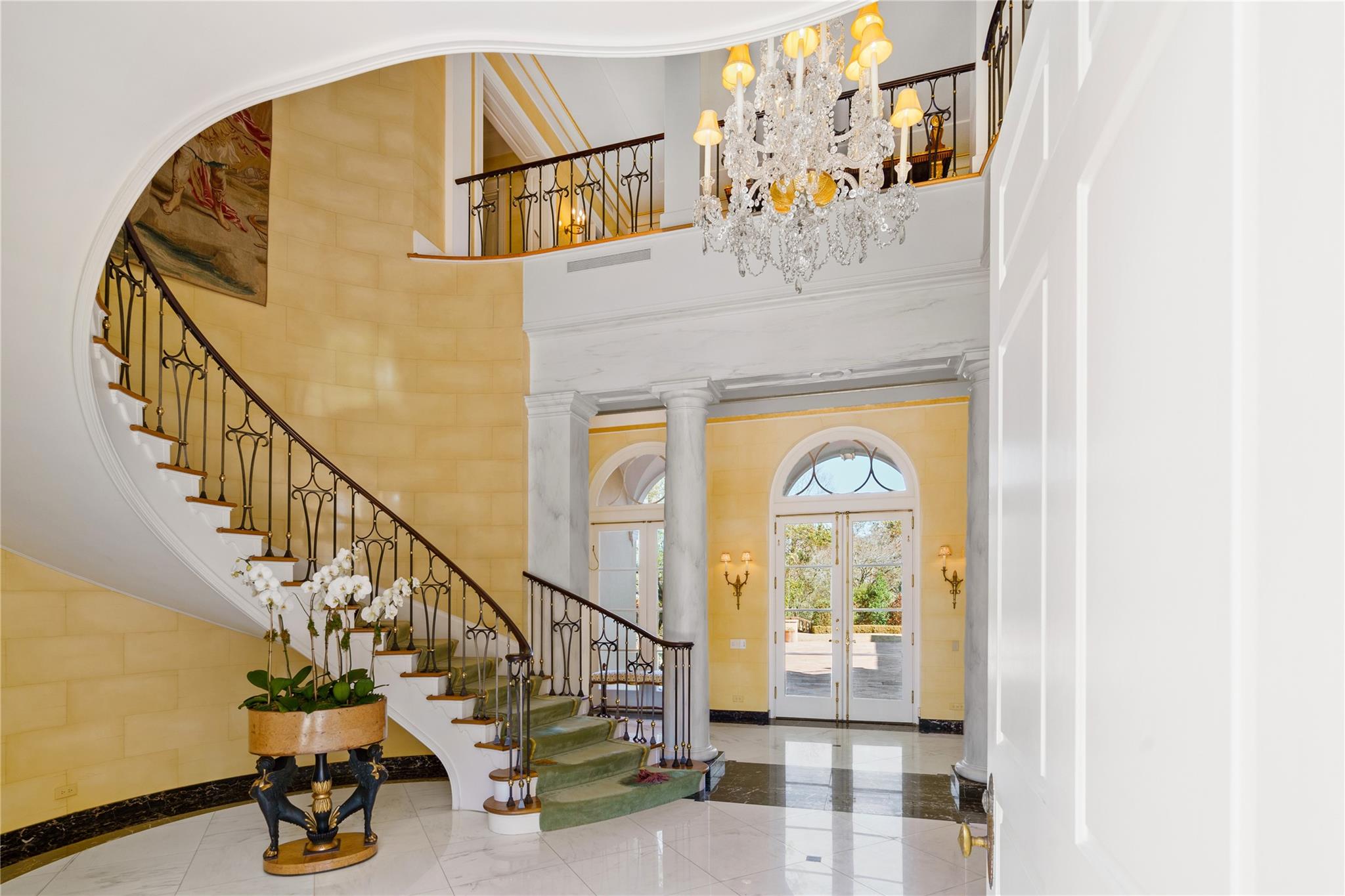 A grand welcoming foyer sets the lavish tone for the Italianate architectural surroundings.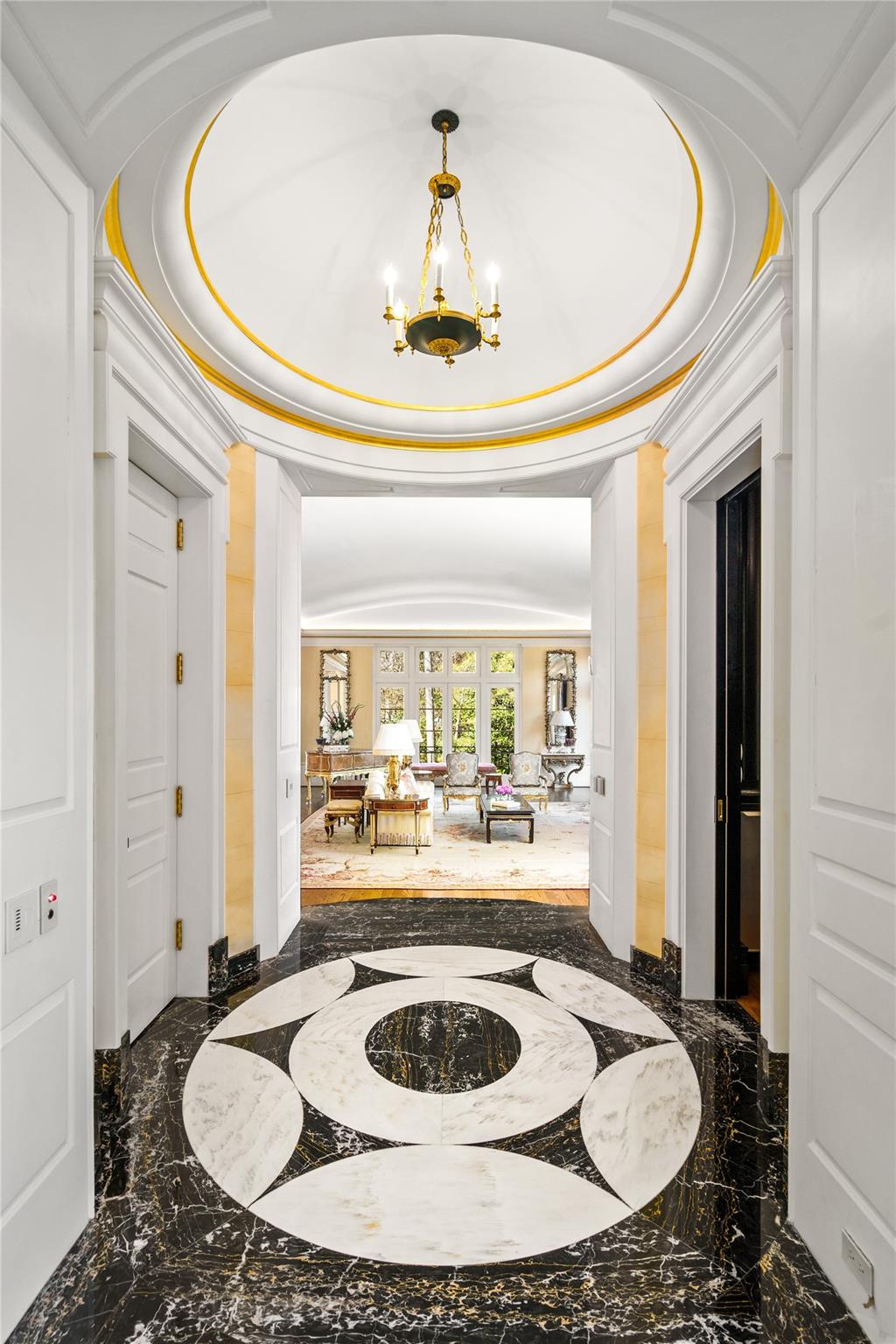 A high domed ceiling above beautifully designed marble flooring leads the stunning multi-use formal living room/ballroom for entertaining or relaxing.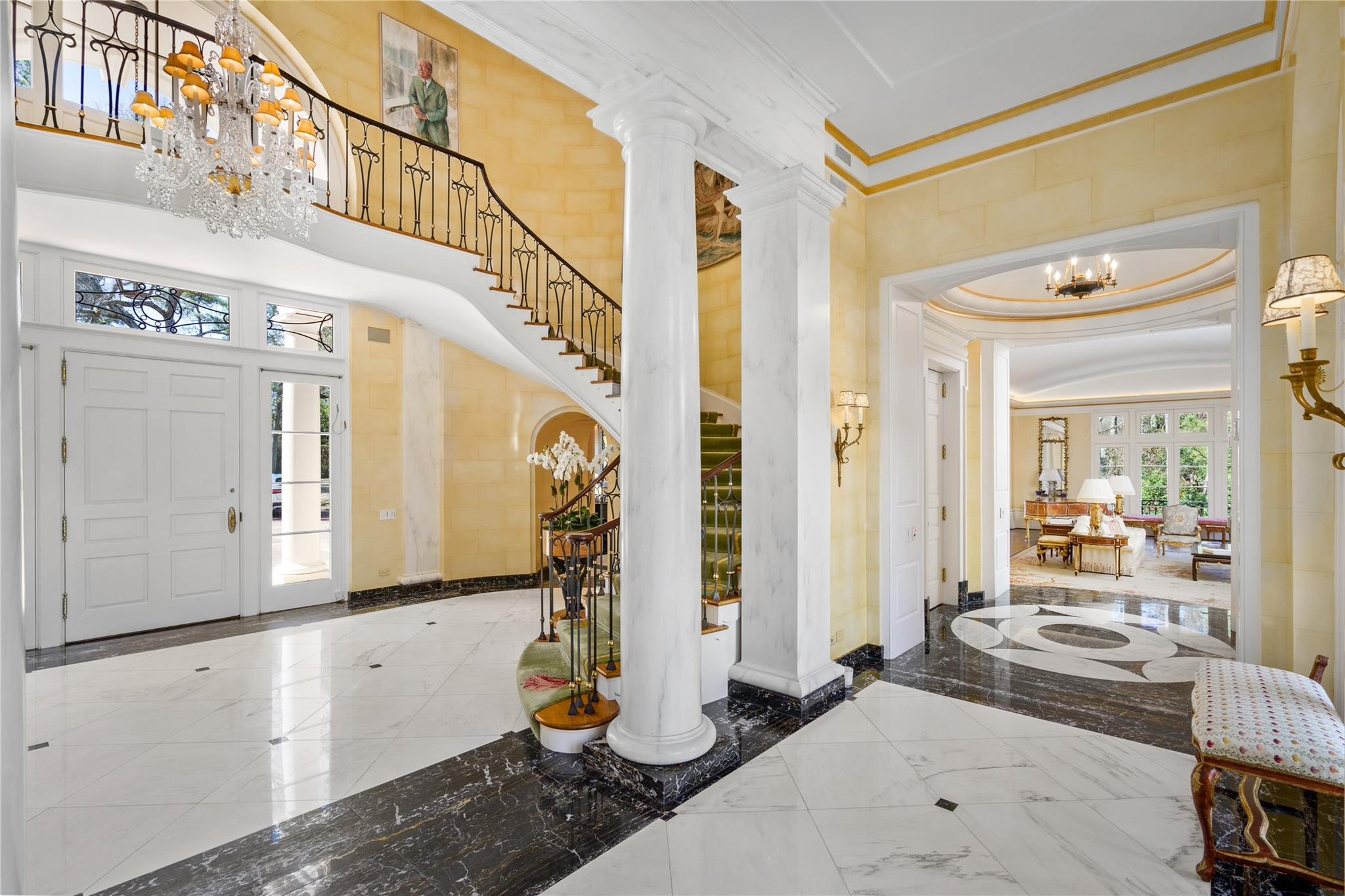 Columns and marble floors accentuate the entry hall that leads guests to all aspects of the property.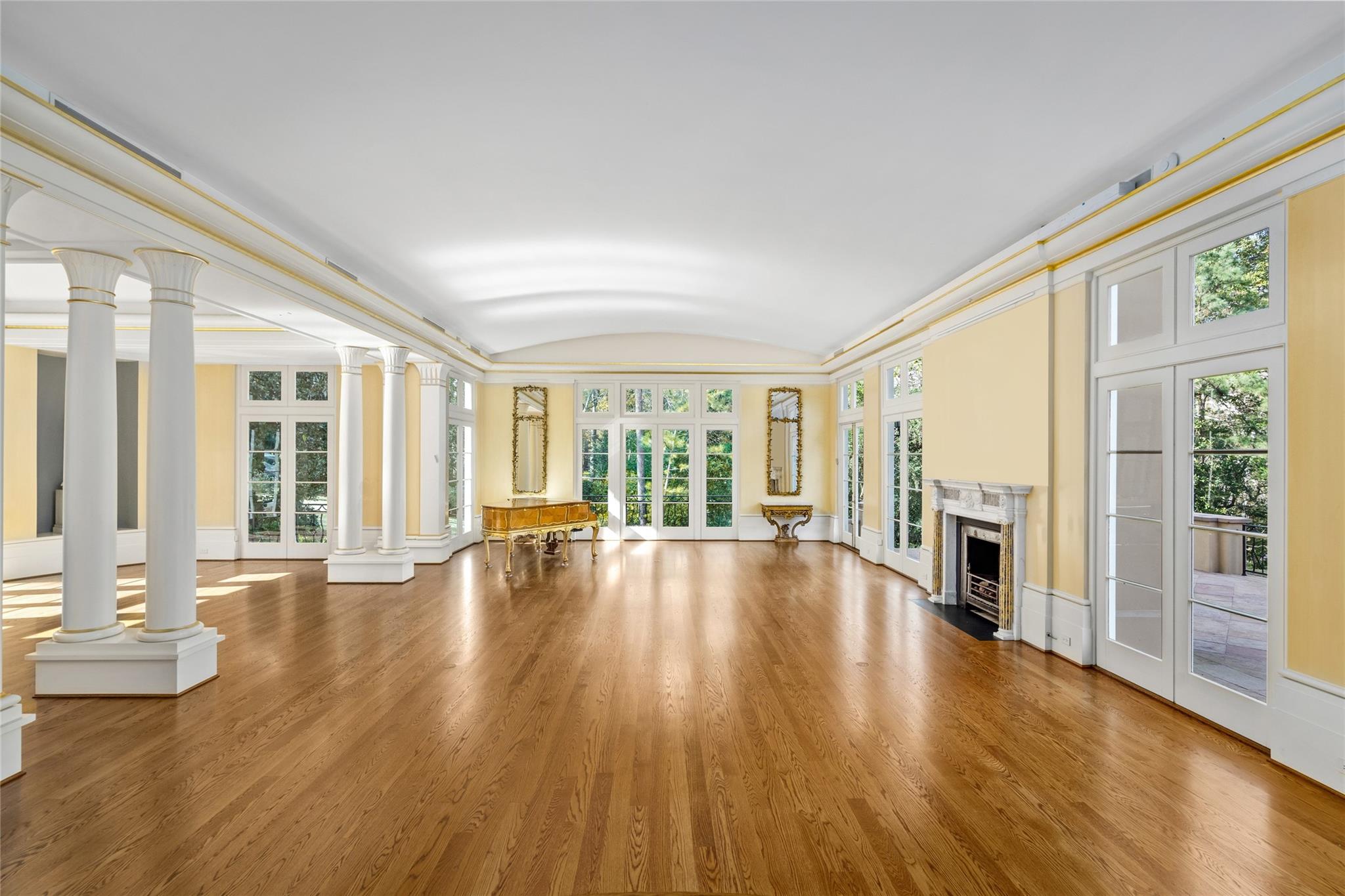 The light-filled formal living room/ballroom is the perfect multi-use space for living, working or entertaining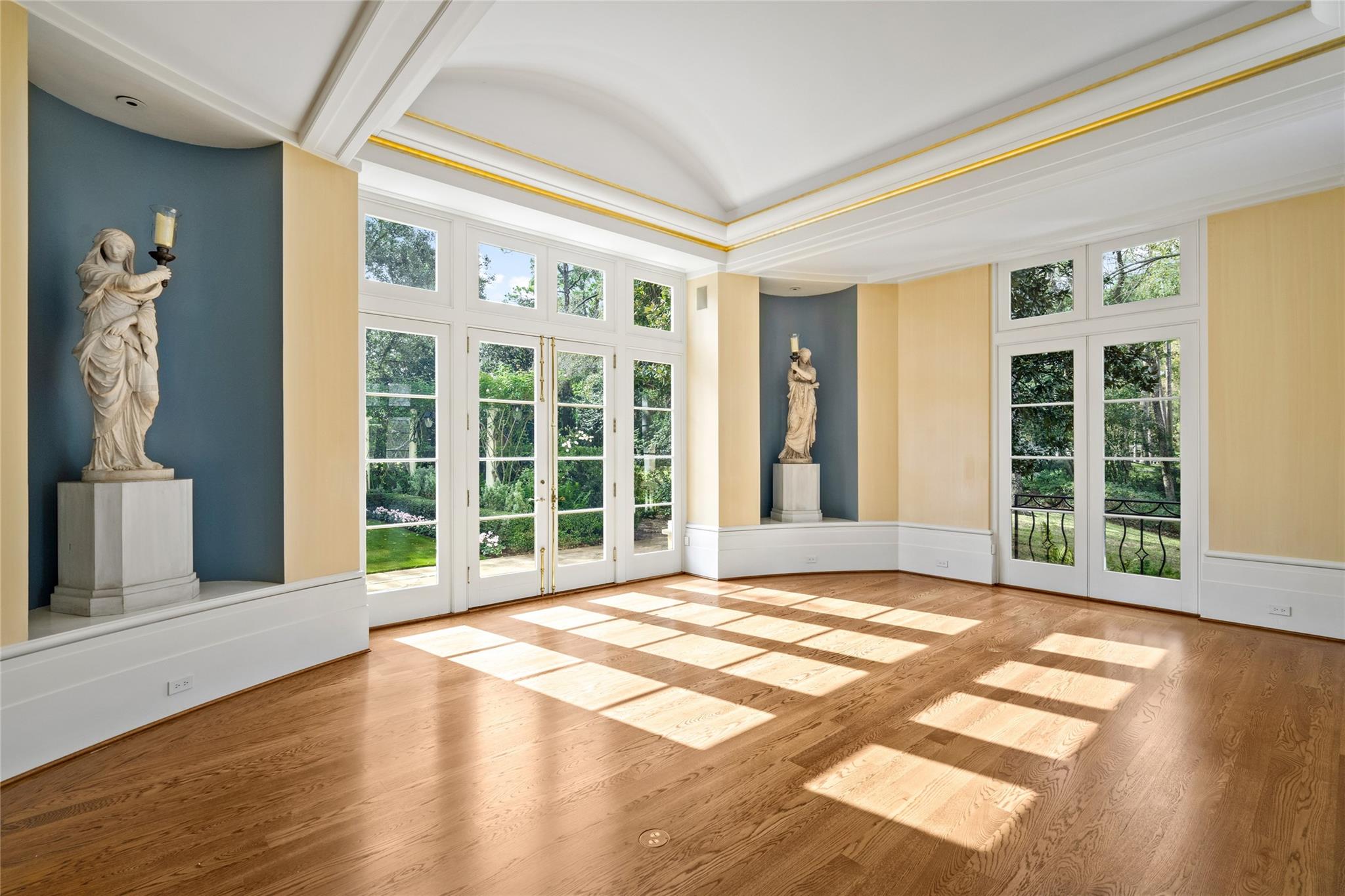 Perfect for a formal sitting area, these beautiful French doors lead to a peaceful meditation garden.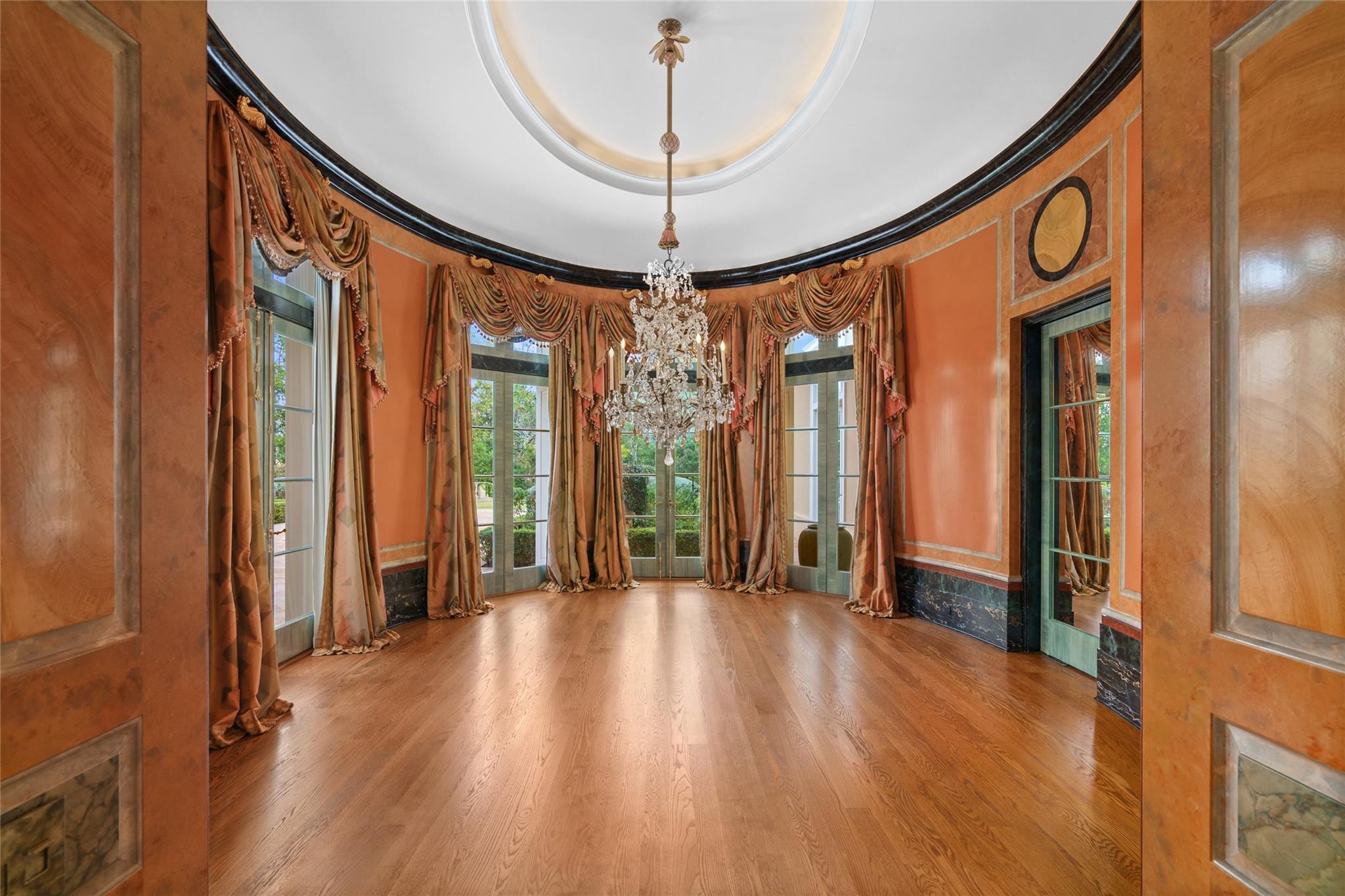 French doors line the corridor leading to the kitchen and guest suites on one side and one of a kind two-storied pool atrium to the other.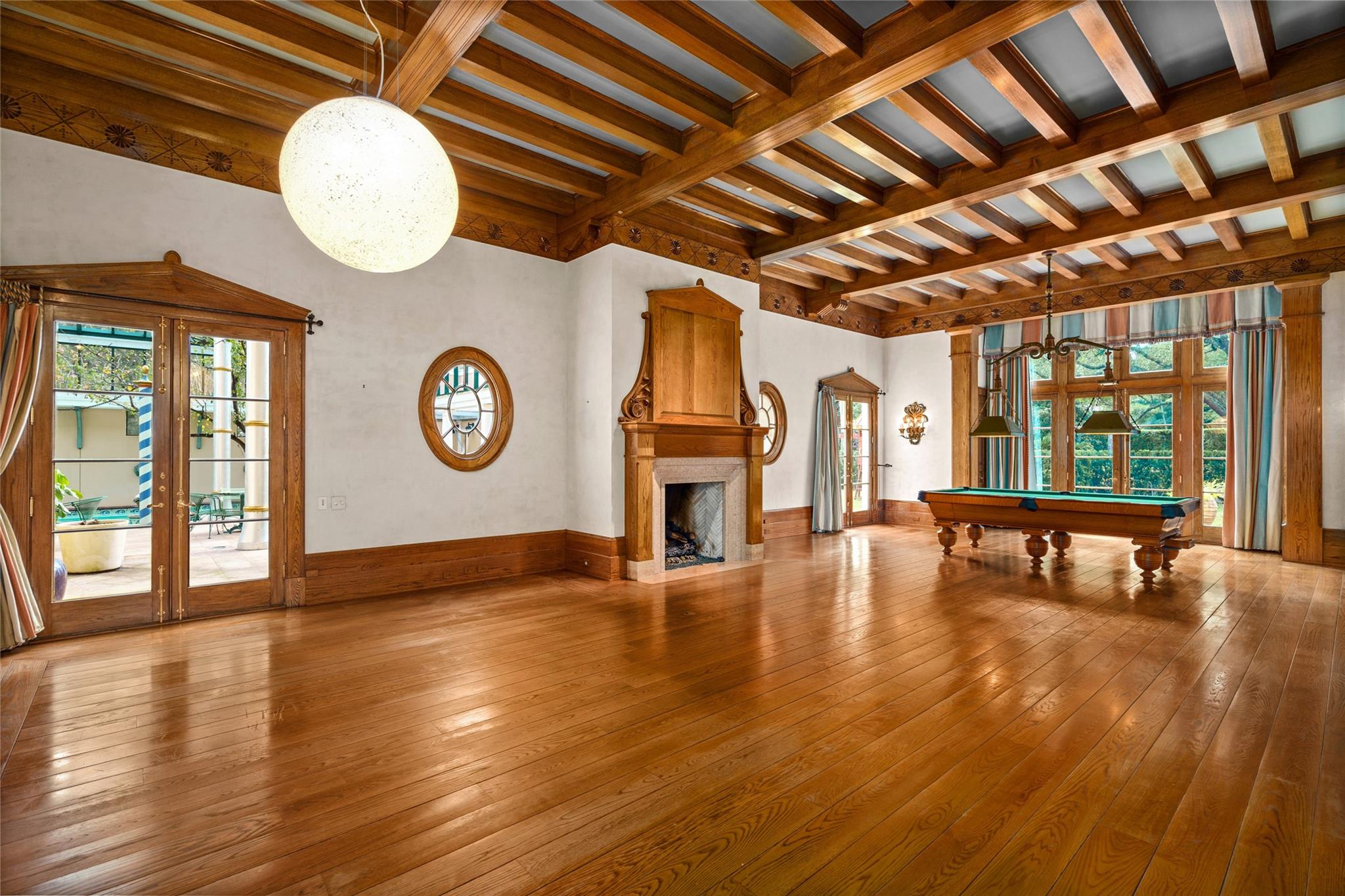 The perfect gathering place created for a relaxing oasis in this family room. French doors lead to directly to outdoor living spaces to fully enjoy the estate.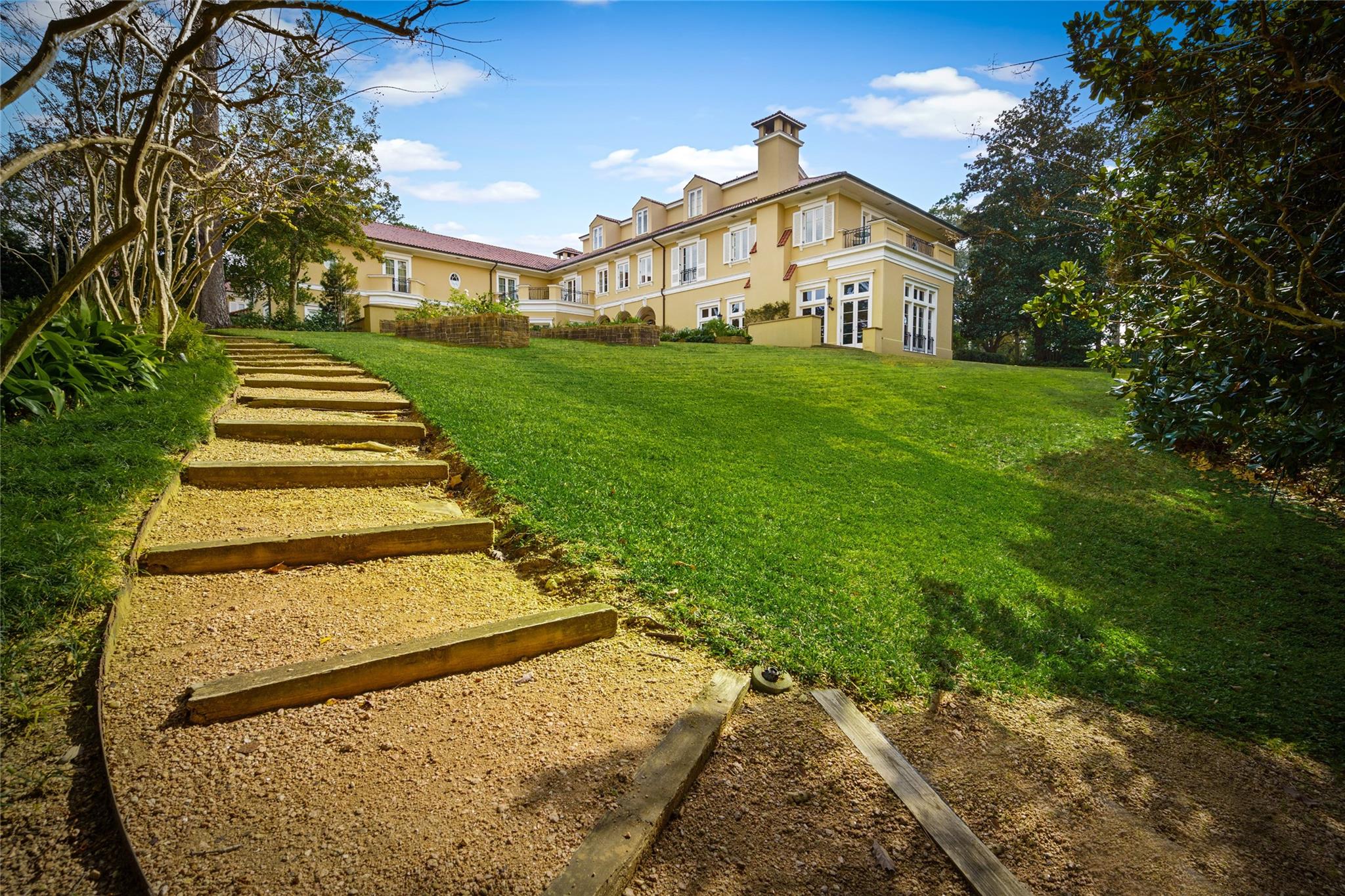 16' ceilings and exposed white oak beams adorn this bold family room opening to the pool atrium beyond.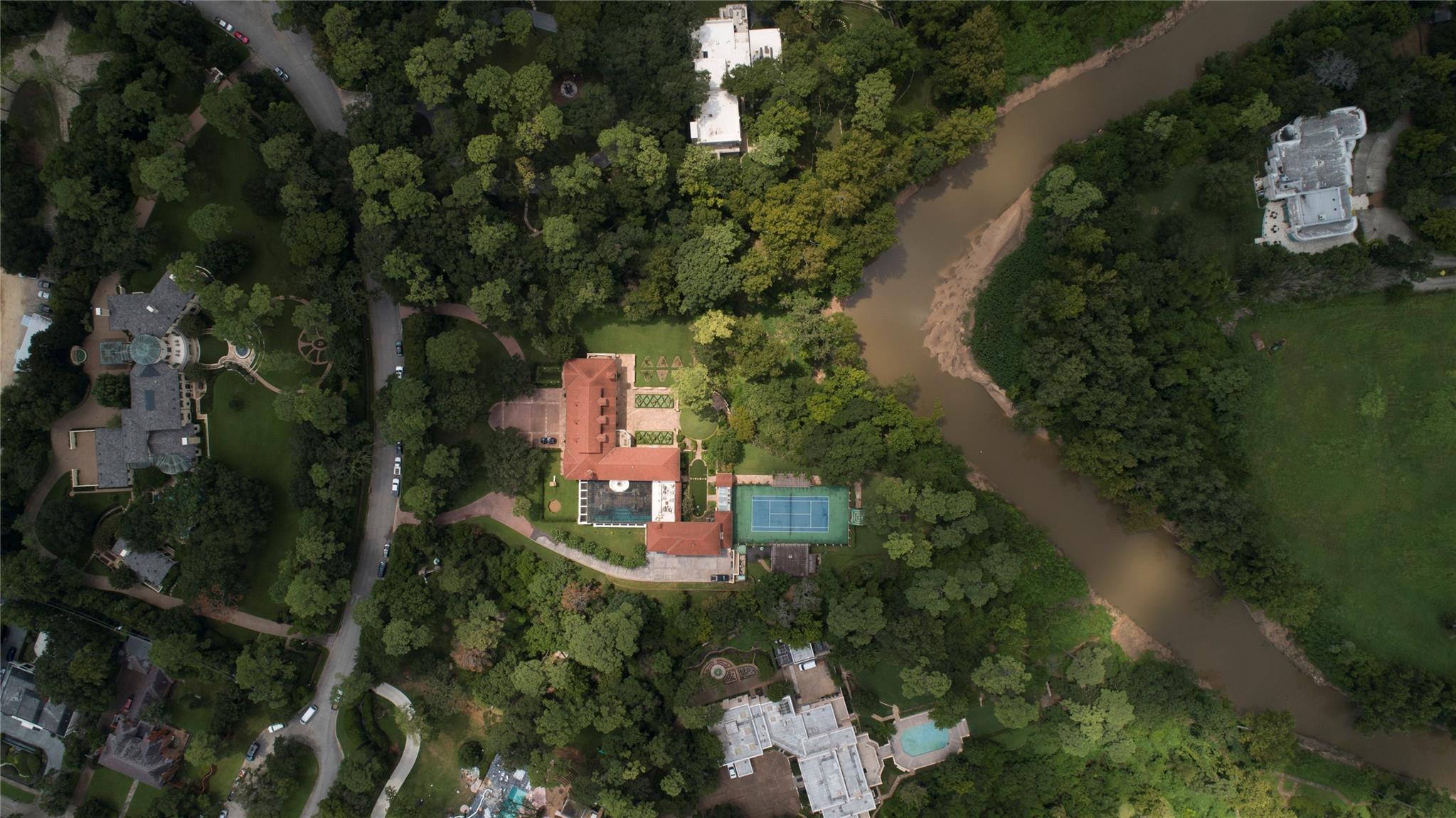 Dine in opulence in the oval formal dining room with garden views.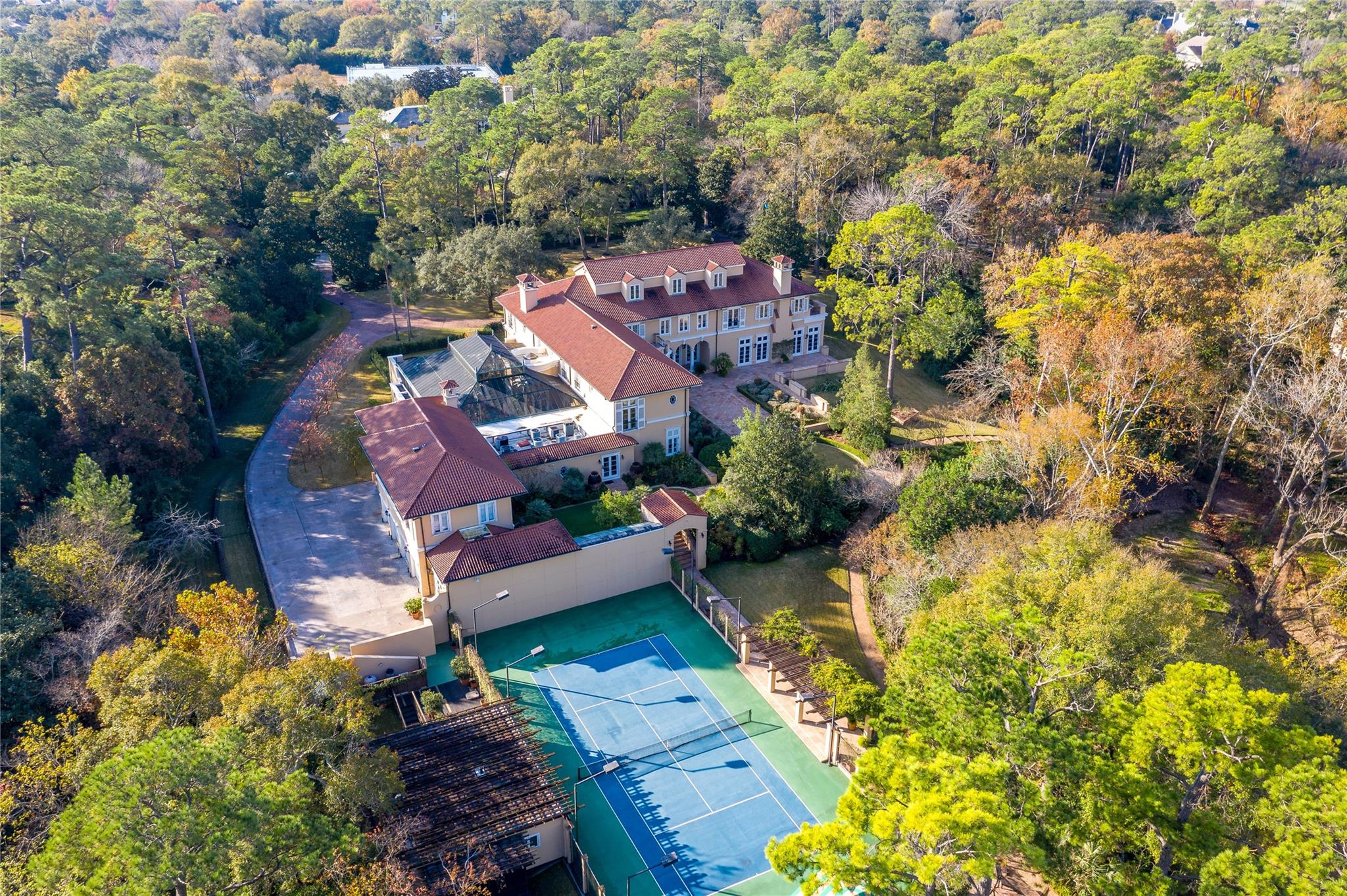 Perfectly set in Homewoods, this Houston estate offers a true sanctuary located near all of the citys best offerings.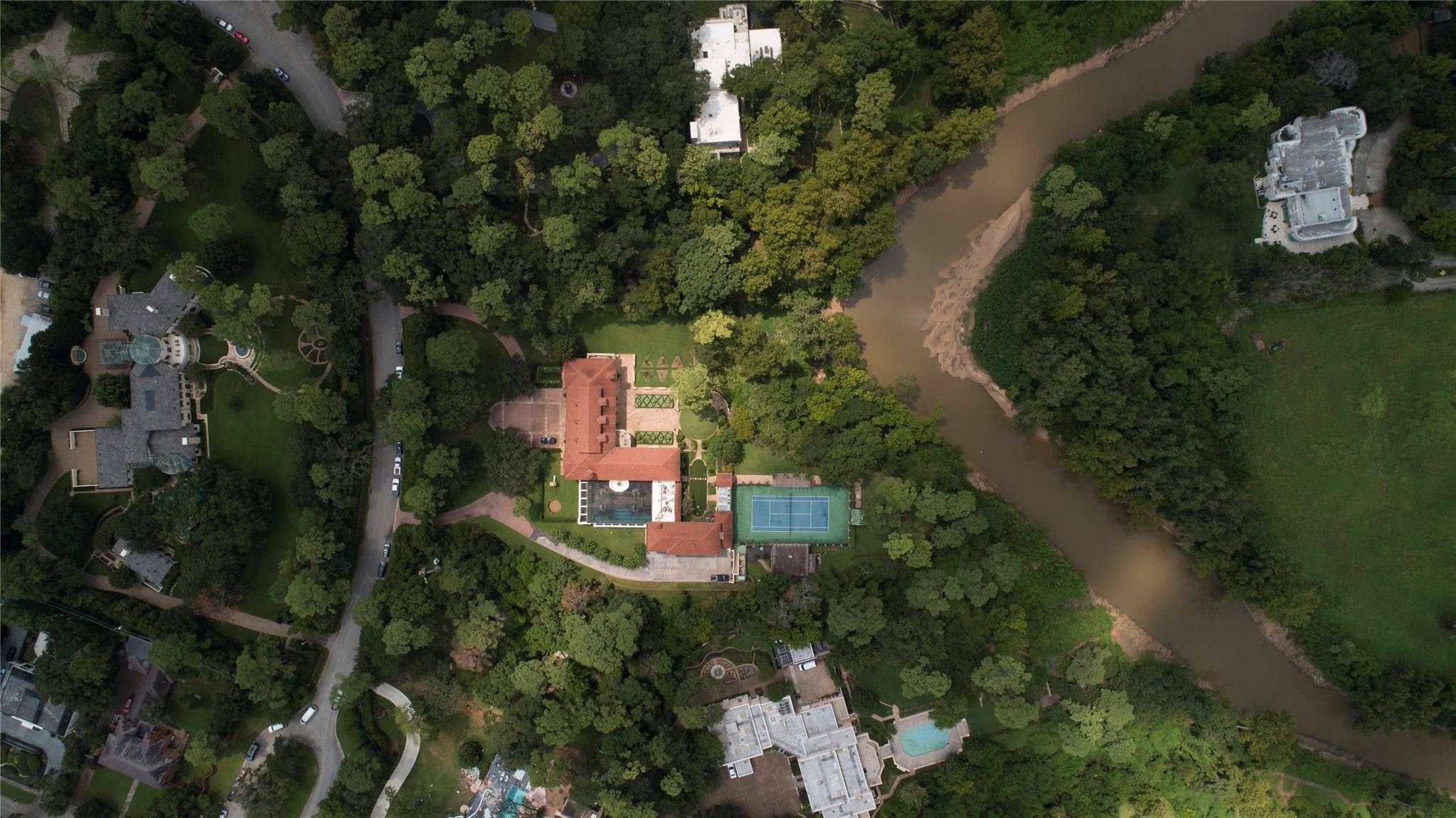 Set on nearly 4½-acre property on Lazy Lane Boulevard, a tony street that backs onto the River Oaks Country Club and is one of the most expensive residential corridors in the country. Established in the 1920s by brothers Will Hogg and Michael Hogg, the community became a well-publicized national model for community planning.
Elegant formal and informal entertaining spaces both inside and out, a regulation size tennis court and two-story garden atrium with pool and fountains create the perfect River Oaks estate.